#DoGoodWP is not just a slogan, it's a lifestyle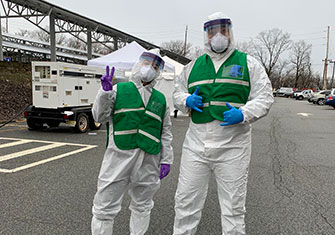 From donating supplies to hospitals to working as volunteers at a COVID-19 drive-thru testing site, members of the William Paterson University family continue to carry out the institution's core value of civic engagement amid the pandemic.
Following are only a few of the ways in which our fellow Pioneers are making the world a safer and better place.
From nursing class to frontline volunteers
Breana Afonso, Annika Alviar, Nour and Yasmine Dhagastani, and Charles Luisa all graduated with a bachelor's degree in nursing this past January. Two months later, with most healthcare facilities suspending residency programs for new graduates, the registered nurses instead volunteered to serve at Passaic County's COVID-19 drive-thru testing site, which happens to be located on the WP campus. Donned in personal protective equipment, they have been working in tents on Lot 6 to perform swab tests, package them for the lab, and verify patients' prescriptions and personal information.
Adjunct Professors of Nursing Apollo Bernardo and Daniel Huq are volunteering at the site, too. Several more University nursing professors are currently going through the screening and orientation process to join them.
"I have a registered nurse license; this is what I signed up for: to help people," Luisa says. "Sitting at home and doing nothing didn't feel right."
As a result, when he saw Passaic County officials posting on social media that they were in need of volunteers, Luisa did not hesitate to raise his hand. Neither did four of his classmates. Some have been volunteering at the site several days a week since it first opened on March 25; others started one day later. They have been serving approximately 250 patients who arrive with prescriptions for testing every day.
"Because we have been there since the beginning, I feel like we were all able to take an important leadership role," Alviar says. "We were able to teach a lot of nurses, doctors, EMTs, and medical students how to run the site smoothly, and we all each independently ran our own tables."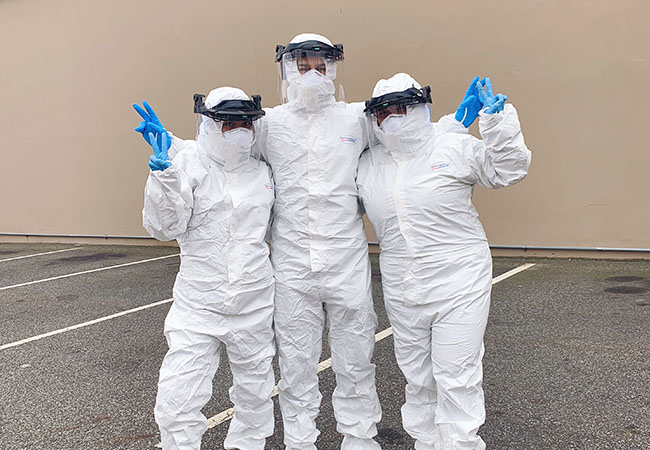 The vast majority of the patients they serve at those tables, Luisa says, are asymptomatic: proof of how people can easily and unknowingly spread the virus to others —  others who do contract severe symptoms.
"If you can stay home, stay home," he adds. "And if you feel symptoms, or if you think you've been exposed, definitely go to the doctor and quarantine yourself from your family and friends. Staying home is hopefully what will get us through this."
"… if everyone is on board," Afonso adds about staying home. "Things are getting crazier by the day. Healthcare workers and everyone else on the frontline are here to help you. Now you must help us by staying home."
As she looks toward a career as an operating room or intensive care unit nurse, Afonso says her experience at the busy testing site has taught her three valuable lessons: the value of teamwork; the importance of effective communication by all members of the team; and most importantly, "that there are so many people with good hearts in this world," she says. "Everyone who is working at this testing site is volunteering their time and exposing themselves for nothing in return. We are just here to better serve the community and fight this pandemic together."
As a result, Afonso says she is inspired to continue pursuing opportunities to volunteer her time and skills as a nurse.
For now, however, the recent graduates are acutely focused on helping to get New Jersey through the pandemic. Passaic County's testing site, which was originally set up with a one-week plan in place, will likely continue for three weeks on top of that, Luisa says.
The current team of alumni-volunteers plans to stay for the long haul.
As a thank you to them and all of the volunteers at the testing site on campus, on March 30, the staff of WP's Office of Institutional Advancement donated more than 80 goodie bags filled with individually wrapped snacks and sweets – "something they can keep in their cars to help them recharge after a long day of testing," explains Vice President for Institutional Advancement Pam Ferguson.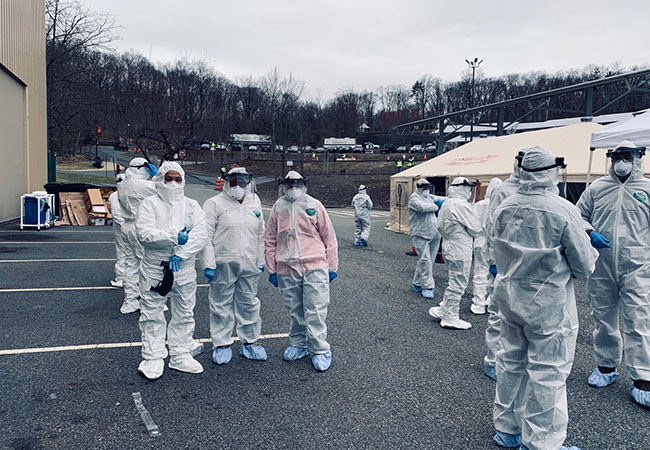 "For the past few weeks, I watched the news and witnessed hospitals and healthcare workers feel overwhelmed from this pandemic, and it was heartbreaking. I felt like I had to do my part. I couldn't bring myself to stay home when I am a qualified and healthy individual that is more than able to help the healthcare force, our community, and essentially, the world," Alviar says.
Professor Bernardo is beaming with pride that William Paterson's recent graduates are answering the community's call for help in such a generous way.
"As a professor, it feels so fulfilling to see nursing graduates implement in real time the very essence of nursing. That is, caring for people and the community," Bernardo says. "William Paterson University did a great job instilling this caring attitude in our nursing students."
"When I started nursing school four-and-a-half years ago, I never thought I would experience something like this so early, or even at all, in my nursing career," adds Alviar, who was president of the University's Student Nurses Association in her senior year. "But it has been an honor to be in the frontlines of such a monumental time in our history." 
'The power to put a smile on someone's face'
Lizeth Morales '05 opened her beloved El Gordo, a small Peruvian restaurant in Jersey City, three years ago. Once the pandemic hit, she had to limit her business to take-out and delivery only, subsequently being forced to cut staff and hours.
"I was leaving work late one day, and I was tired and in a bit of funk, when my cousin, who works in the ER of Hackensack University Medical Center, called and told me what her week was like," Morales says.
Inspiration struck.
The next day, a friend who owns Peruvian restaurant  Flor de Mayo in New York City called to say that he had decided to close during the crisis, and had plenty of leftover produce and chicken that Morales was free to use at her restaurant.
But she already had other plans in mind. "It was like the universe was conspiring," she says, chuckling.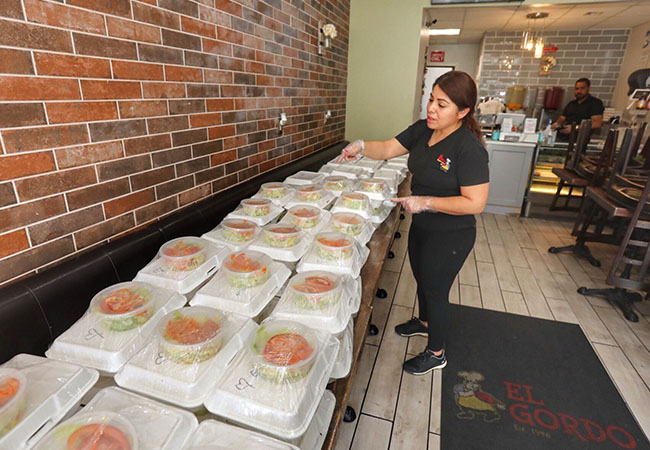 Within 24 hours, on March 21, Morales, her staff –who "was so excited to help" and had volunteered to come to work early–and her friend found themselves preparing 180 meals, which they donated and delivered to the ICU staffs of Christ Hospital and Jersey City Medical Center, the local police precinct, and a nearby assisted living facility. Every meal container had a hand-written note from Morales: Stay strong.
"It felt really good, especially when I saw nurses posting on social media about how thankful they were for the meals. It made me feel like, in this moment as everyone is going through so much uncertainty and sadness, if I can put a smile on someone's face…," she trails off. "I know food always makes me happy," she adds, with a laugh.
"Community service has always been part of my personal motto," Morales adds, explaining her strong involvement in campus activities and community service during her time on the WP campus. "Usually, when I get involved in projects, I keep them to myself. But I shared this one publicly because I want people to take from it that when you come together, when you unite, you can achieve more."
That message was heard loud and clear.
Soon after, Dulce De Leche Bakery in Jersey City contacted Morales with additional produce to donate in support of another 50 meals for frontline workers in the community. Since then, several customers have started buying meals in bulk to support Morales's business and philanthropy, donating those meals to additional frontline workers.
"We all have the power to put a smile on someone's face. Send a message. Check in on someone who has to go out there and work," Morales says. "I think we don't realize sometimes the impact that we can have on someone else."
'We all have to come together'
When The Valley Hospital in Ridgewood, New Jersey put out a call for hospital beds to help it expand capacity during the pandemic, WP's nursing department did not hesitate to answer the call.
"We are all in this together—fighting this pandemic," says nursing professor and department chair Leo-Felix Jurado, who helped load two beds from a nursing lab in University Hall onto a moving truck headed to the hospital. The beds are on loan and will return to campus, eventually. Nursing department administrative assistant Naomi Horsky and campus physical plant supervisor Ray Boone volunteered to help Jurado get the beds out of the labs safely. "This is one way that we can help our community partners. The Valley Hospital has been excellent as a partner in training our students," Jurado adds.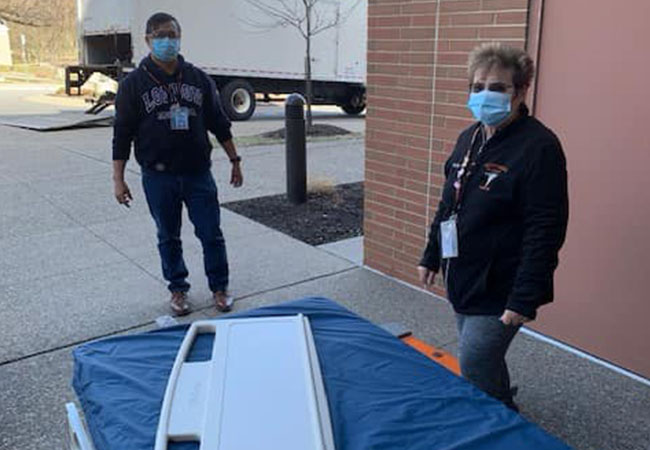 Citing a lack of personal protective equipment in healthcare facilities, Jurado says the nursing department also donated 1,000 gloves, a box of surgical masks, and a box of bouffants to Christian Health Care Center in Wyckoff, New Jersey; 1,000 gloves to Passaic County's drive-thru testing site; 30 isolation gowns and a box of bouffants to St. Joseph's Hospital in Paterson, New Jersey; and 20 isolation gowns to Valley Home Care in Paramus, New Jersey.
As WP nursing beds made their way to the frontlines, kinesiology professor Linda Gazzillo Diaz was home watching the news with her husband, WP alum Ozzie Diaz '95, when a story about the lack of personal protective equipment in hospitals came on the screen.
"Do we have any gloves in the house?" he asked. "I have some in my first aid kit, and some in the classroom on campus," Gazzillo Diaz replied.
She sent an email to University administrators to ask whether she could donate the gloves in her classroom, used for courses in athletic training. Within a half hour, various people from the WP faculty and staff were mobilizing on campus, including the Pioneers' head athletic trainer Alison Moquin and fellow kinesiology professors Racine Emmons-Hindelong and Jaclyn Morrissette. Between the athletics and kinesiology departments, Gazzillo Diaz ended up with 9,000 gloves, which she and Morrissette personally delivered to Chilton Medical Center in Pompton Plains, New Jersey.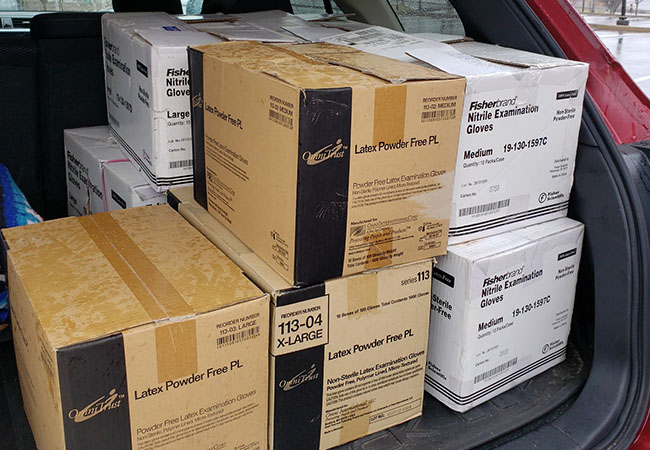 "I thought I might come up with ten actual boxes, and between athletics and kinesiology, we had nine cases," Gazzillo Diaz says. "And everything went so fast. Within a half hour, I had multiple emails with University approvals for the donation and people willing to collect and donate more gloves. The staff at the hospital was so appreciative."
While Gazzillo Diaz and team were collecting gloves for their delivery, College of Science and Health Dean Venkat Sharma was putting out a call to other academic departments in his college, seeking additional donations.
And, donations he got.
The college's safety compliance officer, Mukesh Sahni, and six laboratory technicians from the biology, chemistry, and environmental science departmentsMarizel Mina, Susan Sgro, Michael Wyrwa, Trish Bush, Ashley New, and Michael DaSilva—quickly stepped up to collect and distribute 63,000 gloves between the William Paterson University and North Haledon Police Departments, whose officers are working at the drive-thru testing site on campus.
"As faculty, we hope and try to be good mentors to our students. I hope our students realize, especially now, that even the littlest bit of help goes a long way," Gazzillo-Diaz says. "We all have to come together. We were able to give so much from our campus because people came together."
'The Concept of Mutual Aid'
Zellie Thomas '07, a third-grade math teacher and community activist in his hometown of Paterson, New Jersey, has started an initiative and built a network to feed the city's most vulnerable residents—for free.
Thomas, who developed a great relationship with a local IHOP restaurant after he and 11 friends left a server a combined $1,200 tip for the holidays, initially teamed up with that restaurant to provide free breakfast to senior citizens.
"Their business was dropping during the COVID-19 situation, and they had already ordered food that needed to be served before it spoiled, so they reached out to me and asked if I could help them start a program to donate breakfast to seniors," Thomas explains.
And so, he did.
Thomas ventured out to personally deliver IHOP breakfast to 25 people living in a senior citizen community every morning.
"On the third day, the seniors asked if we could do dinner, as well," Thomas explains. Realizing how much help these residents really needed, he responded, 'I guess I could do dinner as well,' and then, he got to work.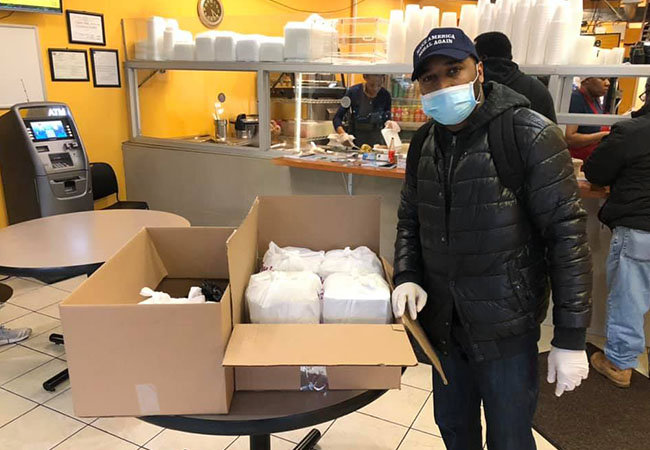 With the help of generous financial contributions from the community and several local restaurants offering meals at a discounted rate— including 2000 Restaurant, Wize Guys Brick Oven Pizza – Clifton, Patio Latino Restaurant, and Mamma's Kitchen, among others—Thomas and a newly-formed network of volunteers started delivering dinner to the 25 seniors, too. IHOP has continued to provide free breakfasts to them.
However, requests for dinner deliveries quickly grew—from the 25 seniors to, as of this writing, 85 residents all across the city.
"People who are seeing my posts on social media, or through word of mouth, are reaching out to ask if their aunt, or grandma, or whoever can be added to our list. We don't deny anyone, so we add them to our list and deliver dinner to them," Thomas says. "Each of our volunteers make three or four house deliveries for dinner."
As word of his initiative to provide free meals has spread, additional city residents and businesses have asked to contribute.
"A local florist who had to close down during the pandemic because it's not an essential business donated all of its flowers to us," Thomas explains. "We gave flowers with our dinners to all of our senior citizens, and that really made their day. They were just glowing."
Thomas, who was active in community service on campus as a student—in the WP chapter of NAACP, Brothers for Awareness, and the Muslim-Student Association, among others—says he is inspired by "the concept of mutual aid" spreading across the nation during the COVID-19 pandemic.
"Mutual aid is about being able to support one another in moments of crisis and not allowing people to fend for themselves," he explains. "Being in a community doesn't mean just living next to somebody; it means supporting one another. If our government, or our businesses, or any other group fails us, we—ourselves—can't fail each other."
Members of the WP community who are interested in joining Thomas's volunteer efforts for the City of Paterson are encouraged to contact him on Twitter or Instagram, @zellieimani.